Hadi Clinic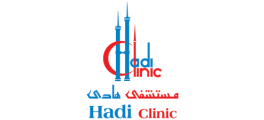 About Hadi Clinic
Company Industry: Medical/Hospital
Company Location: Kuwait
Hadi Clinic has the distinction of being the first premier Private Medical facility built in Kuwait. The hospital offers a full range of Medical, Dental, Diagnostic and Therapeutic services with State of the Art Operating Rooms, Critical Care Units, Cardiac Lab, Neonatal and Special Baby Care Units. As one among the largest private acute care hospital in Kuwait, Hadi Clinic maintains 135 Inpatient Beds for all the Medical Specialities with modern high standard Residency Rooms and Suites. We have achieved the distinction of being the only Hospital in Kuwait establishing affiliation with Cleaveland Hospital, United States, to provide co-operation in all the Clinical and Medical specialities.
Vacancies at Hadi Clinic
We're sorry. At the moment there doesn't seem to be any opportunities from Hadi Clinic. Why not try a general search for Hadi Clinic on KFUPM for other possible opportunities?