Sief Engineering Consulttants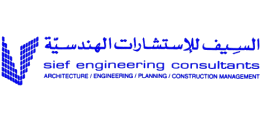 About Sief Engineering Consulttants
Company Industry: Engineering
Company Location: Kuwait
Sief Engineering Consultants (SEC) was established in Kuwait in 1983 as a Kuwaiti wholly-owned multi-discipline firm of planning, project/construction management, architectural, landscaping, structural, costing, civil and services engineers with consultancy expertise in study, design and supervision of public and private projects.

The firm is dedicated to excellence and the provision of market-leading professional, technical and artistic skills in all design disciplines. Services are performed on the basis of complete local production in Kuwait or in association with specialist international consultants if required.

The firm employs only highly international motivated and qualified long term staff deployed in project teams. Each team is monitored and directed by a project director and project manager. State-of-the-art computer aided design systems are utilized through a local area network (LAN) system throughout the design studios.
Policy ensures diversification in project types. These include a full range of governmental, commercial, industrial and engineering development projects.

The firm is registered with Consultant Selection Committee (Minister of State for Development Affairs), Ministry of Public Works, Ministry of Interior, Ministry of Electricity & Water, Kuwait Municipality, Kuwait Fund for Arab Economic Development, Kuwait National Guard and Kuwait National Petroleum Company.
Vacancies at Sief Engineering Consulttants
We're sorry. At the moment there doesn't seem to be any opportunities from Sief Engineering Consulttants. Why not try a general search for Sief Engineering Consulttants on KFUPM for other possible opportunities?